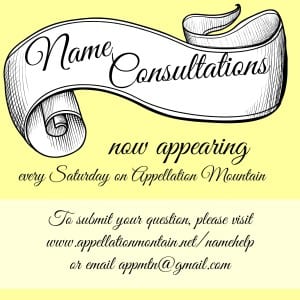 Name Help is a series at Appellation Mountain. Every Saturday, one reader's name questions will be discussed.
We're relying on thoughtful comments from the community to help expectant parents narrow down their name decisions. Thank you in advance for sharing your insight!
Chelsey writes:
We are a blended family expecting the first "ours" of yours, mine, and ours in April. Our older children are Katelynn, Connor, and Emmett.
Before finding out the gender we thought we had two perfect names: Remi Grace and Locke Jackson. We like unusual names – nothing in the Top 100.
After finding out its a boy (yay!), I started to have doubts about the name Locke. I still love it, but my 13 year old daughter came up with the nickname "Loch Ness monster." Will he be made fun of? Is this asking for years of torture? I think it's a strong boys name, but also don't know if it goes with our last name, which is three syllables and ends in k. (Think Wosniak, but with an L sound instead.)
Our runner up name right now is Nash.
Please help!
Hi Chelsey –
Congratulations on your baby-on-the-way!
Let's start with my reaction: I like Locke quite a bit. It feels like a modern, bold name for a boy, but is much less common than many similar choices, like Jax.
Your runner-up name, Nash, seems like an equally appealing possibility.
So let's talk about Locke and Loch, and monsters and nicknames and all of that.
Every name has the potential for nicknames, some silly and sweet. Others might be embarrassing, even cringe-worthy.
My sense is that Locke Ness Monster is the former. It's affectionate. It might lead to a cute Halloween costume in toddlerhood. Who knows? If he turns out to be athletic, maybe it will become a nickname on the playing field, too.
But I can't see how it would set a child up for a lifetime of torment. Everything is embarrassing in middle school, but that's a phase that passes – and I don't think it's automatic that others would nickname Locke after the monster.
Let's have a poll, though, because I'm always curious to hear what others think:
Now, if you're down to Locke or Nash, here's something to consider.
You'd like to avoid a very popular name. I'm guessing that Katelynn and Connor have met other kids with their name, and maybe Emmett, too.
Locke is significantly less popular than any of those names. It's risen quite a bit in the past few years, but it was given to just 66 boys in 2014. That means that not only is Locke outside the US Top 100, it doesn't crack the Top 1000. Or even the Top 2000! Locke is rare.
Lachlan and Lochlan are in the US Top 1000, but barely. They both rank in the 900s. Both names are rising, too. That makes me think that Locke is very much on trend, but will remain a distinctive choice.
It also makes me think of Enlightenment philosopher John Locke, so while the name is edgy and cool, it's got a hint of Whitman-Hawthorne-Rhodes about it. So it's not too cool, either.
Now, about Nash.
The name has been catching on since 1996, when Don Johnson starred as a San Francisco police inspector on Nash Bridges. As of 2014, the name ranked #364 – it's highest ranking yet. That translates to 867 newborn boys named Nash.
So Nash is much more popular than Locke, and seems likely to climb even higher, meaning that Nash might be a future Top 100 name.
My suggestion is this: if finding a truly different, distinctive name is your priority, then Locke is the way to go.
If you'd prefer to stick to something not in the Top 100, but that feels like a more conventional name for a child born today, then Nash is the better choice.
Other names that come to mind: Axel, Beau, Dashiell (or Dash), or Briggs. But my vote still goes to Locke.
Readers, what do you say? Locke or Nash? Are there other names that Chelsey should consider?