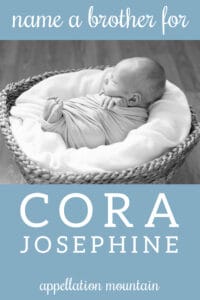 Name Help is a series at Appellation Mountain. Every week, one reader's name questions will be discussed.
We're relying on thoughtful comments from the community to help expectant parents narrow down their name decisions. Thank you in advance for sharing your insight!
Marie writes:
Our second child is due in July, and we cannot agree on a name.
When we were expecting our daughter, we didn't discuss names until we knew she was a girl. We agreed on Cora Josephine pretty easily. There's no family/meaning behind the choice, though we later realized there are Josephs on both sides of our families. (Great-grandfather/great-great-uncle, so not relatives that we knew personally, but close enough that lots of our relatives feel that it's a family name.)
We've decided to use Daniel as our son's middle name. It's my husband's name, and he's a junior, but neither of us really felt strongly about a Daniel III. (Plus I like that both kids will have family middle names, even if we didn't plan it that way for Cora.)
I have suggested, but my husband has refused Jasper, Felix, Anton, Ellis, and Milo. He likes Jett and Cole, but I dislike Jett and Cole is just okay. Plus Cole is too close to Cora, at least for me. We have both sort of agreed on Finn, but I'm not sure it's the one.
Names we like but can't use are Henry, Everett, Logan, Thomas, Wyatt, and Leo.
Our last name is three syllables, similar to Harrison. We want a one or two-syllable first name and don't really want to have a nickname.
Please read on for my response and please leave your thoughtful suggestions in the comments.
Abby replies:
Congratulations on your new son!
It often feels like naming our first child, when parenthood is new, comes easily. But as we become experienced parents, something shifts. We're more aware of what's popular. Names become associated with specific kids! And, of course, the name we choose has to pair well with our older child's name.
It's no wonder that naming our second is often harder!
While you're far apart in some respects, you do have lots of agreement and overlap. In particular, agreeing that you want a shorter name, without nicknames, is a good place to start. And it sounds like you'll need to find some balance between the more vintage favorites on your list – Felix, Jasper – and the more modern Jett.
I do think Finn is a great compromise, and makes a handsome name for Cora's brother. But I'm also guessing that if you really agreed on Finn, you wouldn't be writing.
So let's see if we can find more of those compromise possibilities that will please you both and sound great with Cora and work with the middle name Daniel!
A BROTHER FOR CORA JOSEPHINE
ALEX
While Alex is most often short for Alexander, it stands on its own quite nicely. The x-ending brings to mind Felix. But it's a very current name, too – closer to Cole than, say, Bernard or Ambrose.
BEAU
Bright and high energy, Beau is a relatively new name, like Jett. But it's existed as a nickname for ages and that makes it sound right with Cora.
BECKETT
There's something about Beckett. It's a Top 200 name, immediately familiar. It shares a little bit of Jett's sound. But Beckett can also be literary, making this name nicely versatile.
JUDE
If he loves Jett and you like Jasper, is there any chance that Jude might meet in the middle?
LUKE
Lucas is a Top Ten favorite; Luke isn't too far behind. But that's part of what makes it such a great compromise. It has the short, strong sound of Cole and Jett, but also a little more of the traditional vibe of Felix.
OWEN
It's another name with history to spare – the Tudor kings in England descended from an ambitious Owen. But everything about Owen sounds very twenty-first century.
THEO
If Milo is too out-there for your husband, would the more traditional Theo appeal? Leo was my first thought, and maybe your Leo rules out Theo, too. But if not, it might make a great compromise choice.
ZANE
Zane has hovered in the Top 250 since the late 1990s, never really catching on, but never falling out of style, either. The Z makes it just a little cooler than similar, short names. But it's also not brand new – Zane has ranked in the US Top 1000 for boys since 1921.
Overall, my favorites are Owen and Jude. But they're not the best fits with middle name Daniel. I don't think either is unworkable, but it does push me back towards Theo. And, if you're worried you'll constantly need to explain that it's not short for Theodore, then I also love the idea of Cora Josephine and Beckett Daniel. And I'm wondering if readers will agree with me that Finn Daniel is pretty great, too …
Readers, over to you! What would you name a brother for Cora Josephine?