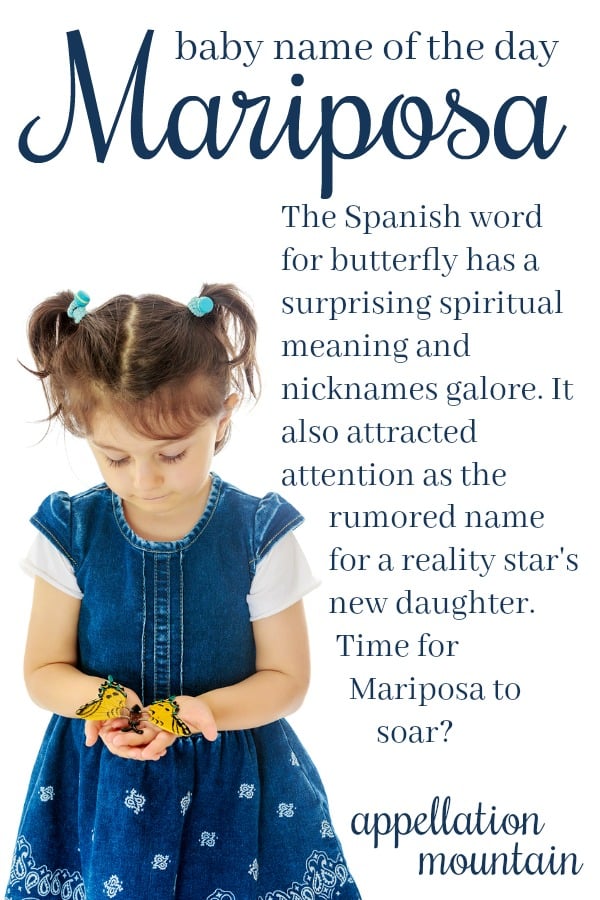 Mariposa made headlines earlier this year as the rumored name of Kylie Jenner's firstborn. Now that we know the reality star went a different direction, could this lovely nature name make other parents' lists?
Our Baby Name of the Day comes from our list of Butterfly Baby Names.
Mariposa: The Next Luna?
Mariposa comes from the Spanish and Portuguese word for butterfly. With word names, especially those inspired by nature, trending in many languages, it seems like a promising possibility. After all, Luna – the Spanish word for moon – stands at #77, very popular indeed.
Plus, Spanish-English crossover names like Isabella and Sofia have become 21st century staples. That makes it  seem even more likely that we'll hear more and more of crossover nature names.
Mariposa: Mary, Alight
But there's more to this story, and it makes Mariposa even more appealing.
The Spanish word comes from a phrase in a children's song: Mary, alight, rest on the ground. Or, in Spanish, María pósate. The phrase dates to at least the fourteenth century, though I can't find a definite first use.
Smooshing Mary with another name to create something fresh is a staple in Spanish. Take Maria and add Isabel, you'll get Maribel. Maricela comes from Maria and Celia; Marisa, from Maria and Luisa. Plenty more are heard.
It's not isolated to Spanish, either. Marigold comes from the phrase Mary's gold – again, a reference to a legend about the saint. Ladybugs, too, aren't referring to just any lady, but Mary once again. And I found another plant called Mary's tears, much prettier than its other common name: lungwort.
Mariposa: Psyche
Many consider butterflies a Christian symbol. After all, their life cycle matches up nicely with ideas about resurrection and rebirth. Legend tells us that Joan of Arc was surrounded by butterflies.
But it's actually a broadly spiritual one – after all, the idea of renewal resonates with people of many beliefs.
It's not new, either. The ancients sometimes spoke of butterflies as the soul leaving the body. Psyche comes from the Greek word for soul or spirit. Today we use it as a psychological term; but it started out as the name of a mythological figure.
Apuleius penned the tale in the second century BC. Cupid and Psyche gives us a beautiful princess, so lovely that the people neglect the goddess Venus. Miffed, Venus sends Cupid to fix the situation. But instead, Cupid scratches himself with one of his arrows, and is smitten with Psyche himself.
They marry, but its all very complicated. A happy ending follows – eventually – and Psyche becomes immortal.
Why do I mention all of this? A favorite way to depict Psyche? Wearing butterfly wings.
Dozens of stories and legends regarding the creatures can be found, all around the world.
Mariposa: Given Name
A handful of places bear the name, but how about people?
Mariposa debuted in the US Social Security data in 1975, when five girls were given the name. As of 2016, there were just 14 newborn girls with the name. It peaked in 2006, with a grand total of 21 births.
In other words? It's pretty close to unused as a given name.
Maybe that's because it can also be used as unflattering slang in Spanish – Urban Dictionary offers up more than one negative association.
Or maybe it's just not on our radar as a given name. Americans might make other associations, including the California county that bears the name. Mariposa County includes much of Yosemite National Park. During the Gold Rush, it became a boom town, where fortunes were made.
Mariposa: Barbie
What explains the 2006 bump in the name's use? I thought it might be Barbie.
Mattel's superstar doll has starred in a series of feature-length films, most released direct to DVD. Sure enough, there's a movie starring Barbie as Mariposa, a shy fairy with butterfly wings who finds the courage to save the queen of her home, Flutterfield, from a deadly poison.
It sounds right, but the movie debuted in 2008, followed by a 2013 sequel.
There's a Colombian telenovela, too, and a 2017 Netflix movie called Mariposa de Barrio, about singer Jenni Rivera. The California native became one of the most successful Latin recording artists of the twenty-first century. She died tragically in a plane crash in 2012.
That last one might explain things: a Jenni Rivera perfume bears the name Mariposa; I can't imagine that the nickname was invented entirely for the Netflix production.
Mariposa: Posie
Another reason to love this name? Posie (or Posy or Posey), the rumored nickname of Kylie Jenner's daughter, thanks to a product in the reality star's cosmetics line. Mari and Mae work as short forms, too.
So while I don't think you'd necessarily need to shorten this name in our age of Isabella, options abound.
Overall, it's easy to imagine Mariposa joining name names like Willow and elaborate choices like Savannah and Ariana near the top of the US popularity charts. For now, however, it's overlooked butterfly baby name that might be the perfect choice for a daughter.
What do you think of Mariposa? Will it catch on even though – or maybe because? – Kylie didn't use it?