Let's talk Cambridge princess names. Unless you've been under a rock, you know that Will and Kate are expecting their third sometime this Spring.m
The royal couple are already parents to George Alexander Louis and Charlotte Elizabeth Diana. They haven't revealed if they're expecting a prince or a princess, but it seems like they've established some pretty firm ground rules when naming their children.
First, officially they aren't Will and Kate, but His Royal Highness The Duke of Cambridge and Her Royal Highness The Duchess of Cambridge. His full name is William Arthur Philip Louis; she's Catherine Elizabeth. Until he married, he was styled Prince William of Wales.
Their children are known as the Prince and Princess of Cambridge, at least until dad ascends the throne.
Cambridge Princess Names: What We (Think We) Know
We can expect that the new Cambridge baby will also have three names, with the first drawn from the most impeccable of British royals.
But here's another rule the couple seems to follow: no repeats. They've avoided lots of names with rich potential that are used by others in their generation. Since William's Uncle Edward is dad to Louise and James, those names are almost certainly out. The same is true for many other names already used among the extended royal family.
So what might the famous family name a princess? We might get some surprises, but the list is pretty small.
Cambridge Princess Names: Alice
Current popularity rank: #76 in the US; #17 in England
Alice holds the title of current frontrunner – by a mile! Bookies successfully predicted Princess Charlotte's given name. If they're right again, another girl will be named Alice. It's a traditional, storybook name with royal ties. Queen Victoria's second daughter was named Alice Maud Mary. It's also steadily popular in the UK, and Will and Kate seem to prefer a mainstream pick.
Cambridge Princess Names: Amelia
Current popularity rank: #11 in the US; #2 in England
King George II named his second daughter Amelia; King George III gave the name to his fifteenth child. So it's royally royal, at least since the House of Hanover claimed the throne in 1714. Interestingly, that first princess Amelia was known to her family as Emily. While the names have separate roots, they've been confused and substituted for generations. Like Alice, it's a logical choice for a Cambridge daughter, and one not currently in use by a family member.
Cambridge Princess Names: Caroline
Current popularity rank: #56 in the US; #721 in England
At first glance, Caroline seems like a contender. Plenty of princesses have answered to the name, but none in this generation. Plus, Kate's mum is named Carole Middleton. And yet, Caroline is quite out of favor in the UK. It's a cousin to Charlotte – both are derived from Charles – which makes it seem unlikely that a second daughter would have such a closely-related name. My best guess is that Caroline would be confined to the middle spot. Alice Caroline Mary, maybe?
Read more about Caroline here.
Cambridge Princess Names: Eleanor
Current popularity rank: #41 in the US; #47 in England
Eleanor sounds intelligent and capable, a serious name with considerable style. And yet, it's not immediately a princess name, is it? Maybe that's because no recent daughter of an English monarch has answered to Eleanor. But go farther back in history, and you'll find a number of Plantagenet queen consorts – and their daughters – who answered to Eleanor. Combined with the pressure to avoid repeats, and the pair's inclination to stick with mainstream favorites, Eleanor seems like a contender.
Cambridge Princess Names: Frances
Current popularity rank: #446 in the US; #385 in England
Middle names are a funny thing. Some people are strongly attached to theirs. Others barely remember that they exist. You might know that William's mom was born Lady Diana Frances Spencer. Her mother was born The Honourable Frances Ruth Roche. Kate also has both the feminine Frances and masculine Francis on her family tree. So it's a family name through-and-through. But is it royal? Not really, at least not in England. That makes me think Frances is more likely as a middle than a first. But if it's seen as a way to honor Diana? Well, Charlotte's second middle name already does that. So I have my doubts, but I still think it's a maybe.
Cambridge Princess Names: Helena
Current popularity rank: #518 in the US; #281 in England
If I were naming the new royal, no doubt I'd go with Helena. Queen Victoria's third daughter was named Helena Augusta Victoria, known as Lenchen – a German diminutive – by her nearest and dearest. There have been Helenas among the ruling houses of Europe for millennia; an Assyrian queen answered to the name all the way back around the year 50. And yet, I think that's what sinks this name. While George and Charlotte are impeccably British royal, Helena feels a little more pan-global. I'll say it once again: maybe as a middle.
Cambridge Princess Names: Margaret
Current popularity rank: #139 in the US; #424 in the UK
If you're watching The Crown, you know all about rebellious Princess Margaret, Countess of Snowdon. Or at least we know one version of her story. The younger sister of the current Queen of England, she was stylish, beautiful, and unconventional. She also broke lots of royal rules. But does that mean that her name is out of consideration? After all, Queen Victoria had a granddaughter named Margaret, who become Crown Princess of Sweden. It's nicely royal over several generations. Despite all of this, I think it's in middle name only territory. Princess Margaret's son, Viscount Linley, has a daughter named Lady Margarita. Does that make it too close? Maybe. The name is also out-of-favor in the UK, which makes it slightly less likely.
Read more about Margaret here.
Cambridge Princess Names: Mary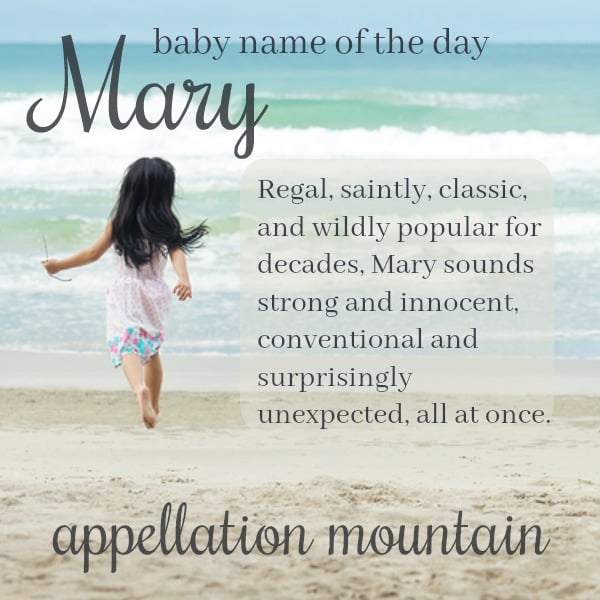 Current popularity rank: #157 in the US; #251 in England
Long the #1 name for girls in the English-speaking world, Mary has tumbled. That makes for a curious circumstance: parents routinely reject Mary for being too popular, but the name is downright rare on girls born in recent years. I doubt Will and Kate will reverse that trend. (Even though years of watching Dowton Abbey makes me think of Mary as the most upper crust of British names.) Still, I think it could appear in the middle spot. That's because it's definitely on Will's family tree. His great-grandmother, the Queen Mum, was adored. Her mother was Mary of Teck, and her mother was Princess Mary Adelaide of Cambridge – daughter of Prince Adolphus, Duke of Cambridge, son of King George III. He was the last prince to be created Duke of Cambridge until William. So that gives Mary oodles of history, plus there's no current Mary in the family, though several members wear it as a middle.
Cambridge Princess Names: Matilda
Current popularity rank: #497 in the US; #25 in England
This one wasn't really on my radar until Elea of British Baby Names mentioned it in her recent post for Nameberry. It was a popular choice for royals in the Middle Ages. King Henry I of England had a Matilda; so did Henry II. And they're not the only ones on the family tree. But here's what swayed me: Matilda charts at #25 in England, far more mainstream there than in the US. I think that transforms it from an out-there, long-shot choice, to a very real possibility. Another factor? There are no Matildas amongst the current royal cousins. If Will and Kate don't use it for a daughter, it's going to the top of my list for Harry and Meghan's first girl.
Cambridge Princess Names: Sophia
Current popularity rank: #4 in the US; #11 in England
King George III's twelfth child was named Sophia Matilda; she had an older sister named Augusta Sophia. A handful of others can be found, with more across the royal houses of Europe. That puts it on the shorlist, but what really sets Sophia apart are the other considerations. There's no other Sophia among the cousins – though Prince Edward, William's uncle, is marred to Sophie Rhys-Jones. But that's not exactly the same name. Plus, Sophia is a mainstream favorite, another hallmark of names that Will and Kate seem to prefer.
Cambridge Princess Names: Likely Middles
I think several of these names will almost certainly feature as middles. There are a few others that might appear in a princess' name.
Catherine, especially, strikes me as a likely middle. I can't imagine Kate sharing a name with her daughter, but I can see it included in the combination. It's so nicely royal, after all.
Victoria seems like much too much to live up to, but might feature in a combination.
Some other possibilities include Philippa – though I'd say Philip is more likely for a boy – Rose, Adelaide, Maud, Beatrice, Ann, or maybe even Louisa.
Cambridge Princess Names: My Guess
So if I had to guess, I'll go with Alice Catherine Mary. It's far more conservative than my choice for Princess Charlotte. (I was convinced they'd choose something from farther back in history, since their daughter is less likely to ever reign.) But with two children named, I feel like its clear that they're not likely to take a risk with any name that is less than impeccably royal.
What are your guesses for Will & Kate's baby name? This is the girls' post. Find the boys' list here.