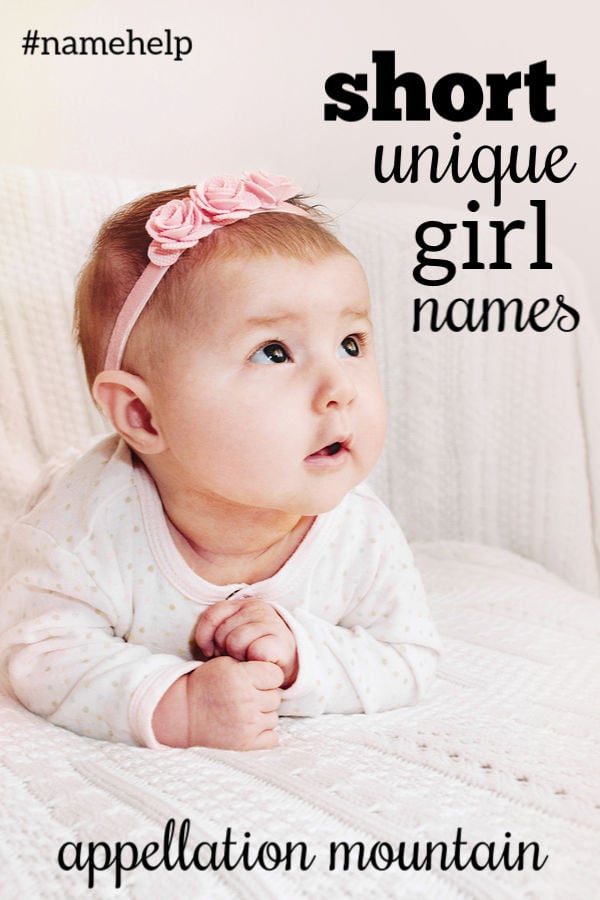 They're expecting another daughter. Let's help them find a short, unique girl name that works well for their family.
Tricia writes:
I'm looking for a name for a baby girl due in five weeks. Sisters are Halle and Qwen (pronounced like Quinn) and brother is Boone. Really struggling!
I like unique, shorter names … any suggestions?
Please read on for my response, and share your thoughtful suggestions in the comments.
Dear Tricia –
Congratulations on your new daughter!
It's always tricky with multiple older siblings because, well, there's a range. Boone and Halle feel more mainstream; Qwen is a one-of-one, never-meet-another kind of name.
I'm assuming that, with three older kids, you know lots of children. That often makes it more tempting to choose something that stands out, in order to avoid repeats. But it can work the opposite way, too. After all, if you have three kids and don't know a single Ava or Ruby, maybe that ups your confidence in choosing a name higher up on the popularity charts.
So let's focus on style, above all else. I think your ideal name should be:
Brisk and modern, so no to Ruth or Joan
Not invented – at least not from nothingness, though you're willing to innovate
While Boone is a surname, your daughters' names feel more like firsts
And it seems like you'd prefer to stay on the right side of feminine, so Drew is out
I'm going to avoid repeating B, H, and Q names – though there's really no reason you have to do so!
Alix – Like Qwen, Alix can sound slightly unisex. But the 'i' spelling has been used for girls for centuries. Strictly speaking, it's an old French spelling of Alice, which makes it a cousin to Adelaide, not Alexandra. Alix has never cracked the US Top 1000 for girls, though all of the Alex- names have had good runs in recent decades.
Edie – Halle and Qwen both feel rooted in the past, even though I'd call both more modern than vintage. Edie hits the same spot for me. Yes, it feels like it could be a nineteenth century name – Edith certainly is. But it also connects to current favorite Eden. I like that ambiguity, and I think it's great with Halle, Qwen, and Boone.
Liv – The sound of Liv repeats in Olivia and Olive, and it's close to names like Evelyn, too. But Liv is brisk and minimal, a short name with style to spare. Better yet, it's not derived from those longer names at all. Liv comes from Old Norse, and while it originally meant protection, it coincides with the modern Scandinavian word for life. That makes Liv the new Zoe.
Lux – Lux could be perfect – short, but with a big sound. It's the Latin word for light, so nothing too dreamed-up, and yet it's not commonly heard as a name. It leans feminine, though I've heard it used for boys, too. One challenge: some pronounce it like Luke-with-an-s, while others say it like luck-with-an-s. I'm partial to the latter, but neither is wrong.
Sybil – Sybil might feel the most deliberately old-fashioned of all the names on this list, but I think it has a modern sensibility that puts it in step with Halle and Qwen. (And Boone, too!)
Raya – Raya could connect to so many names – Rhea and Ray, to name just two. As with Lux, the pronunciation may vary. I think Raya transcends cultures, belonging to none specifically but fitting in with many.
Tai – They're before my time, but back in the 1970s, Tai Babilonia and Randy Gardner were a wildly successful figure skating duo from the US. The next time I heard the name was in 1995's Clueless. But it's never really caught on, despite the wildfire success of Kai for boys. I think it has potential.
Vail – I love the sound of Vail, especially with your older kids' names. But does Vail imply a Colorado connection? Maybe. Vale, a poetic word for a valley, might be a better choice.
My favorite from this list is Lux – Halle, Qwen, Boone, and Lux. I think it's exactly right.
But I know readers will have some good ideas, so let's open it up to the community.
What would you name a sister for Halle, Qwen, and Boone?