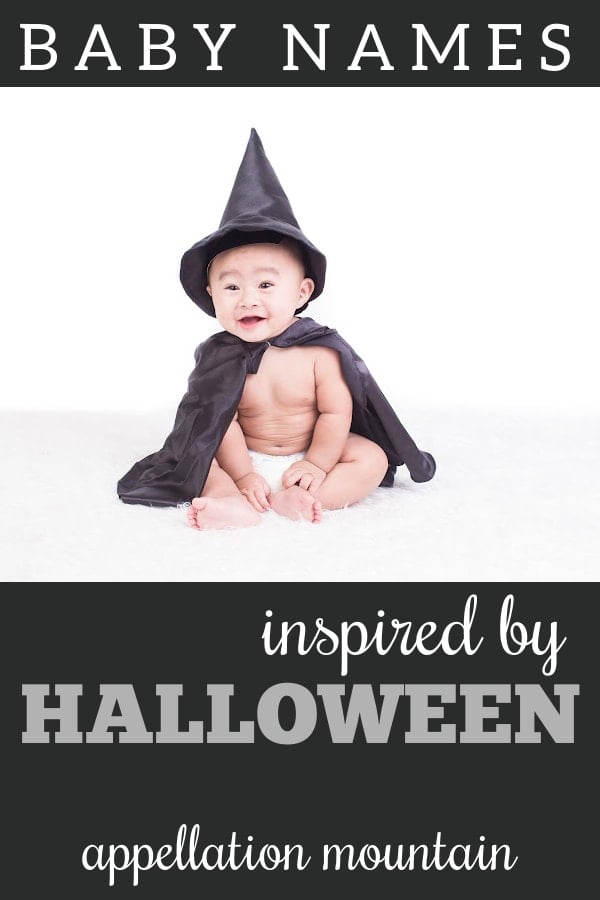 Halloween baby names that celebrate spooky season!
Seasonal names work for lots of reasons: they create an automatic shortlist, embrace a favorite time of year, or just plain express your personal style. Maybe Halloween is your favorite holiday, or your baby is due in late October. No matter the reason, these names capture the spirit of the season.
Some Halloween baby names feel mainstream; others are downright dark. And a few make the list of Halloween baby names because they're so buzzworthy … but they might be much, too much for a child's first name.
Trying to decide if a name is too much? It's not exactly the same question, but Can I Use This Bad Guy Name for My Baby? might help.
On with the baby names inspired by Halloween!
HALLOWEEN NAMES FOR GIRLS
AMARA
The Vampire Diaries gave us dozens of gorgeous, influential names – too many to add to this list. In the series, Amara was the first immortal woman. The name actually does mean immortal in Sanskrit, though the same name occurs in other languages, too.
ANGELIQUE
Long before Buffy or Charmed gave us supernatural storylines, gothic soap opera Dark Shadows ran on ABC from 1966 to 1971. Reboots have followed, though none as successful as the original. Angelique is a powerful witch, and a villain in the popular series.
ANNABEL, ANNABELLE
This name will make nearly any round-up of Halloween baby names. Not only is it the ill-fated young woman at the heart of Edgar Allan Poe's "Annabel Lee," it's also the name of 2014 movie Annabelle, inspired by the creepy doll at the heart of the Conjuring universe.
ANTHA
One of many gorgeous names from the Mayfair Witches, the family created by Anne Rice for her other very famous book series.
BELLA
Twilight gave us Isabella Swan, an ordinary teenage girl – until she moves to Forks, Washington and meets vampires and werewolves, oh my.
BELLADONNA
It sounds like a pretty name for a girl. It literally means "beautiful lady" in Italian. But it's also another name for deadly nightshade, a poisonous wildflower.
BLAIR
1999's The Blair Witch Project masqueraded as a documentary. Three student filmmakers went into the woods to investigate a local ghost story, only to disappear – leaving behind a record of their fate. It lends preppy, polished Blair a darker side.
BUFFY
Buffy the Vampire Slayer was a pop culture sensation. The movie flopped, but the television series ran for seven seasons, taking on scary monsters along with the usual challenges of high school and beyond. The idea? What if the stereotypical blonde girl who gets attacked in every scary movie ever is actually the one who can save the day.
CLARICE
As in rookie FBI investigator Clarice Starling, her name forever immortalized in horror-thriller flick Silence of the Lambs. 
CLAUDIA
On the fun and fluffy side, Clawdia Wolf is a student at Monster High, a fictional world of teenage monsters. But it's the child vampire of Anne Rice's Vampire Diaries that makes this name extra scary. A young Kirsten Dunst played the part in the 1994 movie.
CLEO
Another Monster High student, Cleo de Nile is the daughter of the Mummy. Instead of wrapped in bandages, she looks more like royalty – think Elizabeth Taylor as Cleopatra meets captain of the cheer squad. (Well, at Monster High, it's the Fear Squad – but Cleo is still in charge.)
CORALINE
Neil Gaiman was writing about a little girl named Caroline when he accidentally reversed the letters – and like it. The 2009 dark fantasy film takes us into the Other World with young Coraline as she solves a mystery.
DRUSILLA
Back to Buffy the Vampire Slayer. Drusilla is one of many vampires Buffy faces off against, this one creepier than most.
ELENA
The girl at the center of it all in The Vampire Diaries, Elena thought she was an ordinary human girl at Mystic Falls High School – until she found out that the world was far more complicated than she'd ever imagined.
ELVIRA
Years before Netflix, Cassandra Peterson hosted a weekly showing of horror movies on a local Los Angeles television station. Elvira's Movie Macabre became wildly popular beyond California. In 1988, she starred in Elvira, Mistress of the Dark. All these years later, the character surfaces in video games and reality television. Classical music aficionados will also think of the Mozart concerto used in a 1967 story about a doomed circus performer, Elvira Madigan. 
ENID
Plenty of pop culture references attach to Enid, but at the moment, she's the werewolf bestie of Wednesday Addams in the hit Netflix series.
ESME
As in Esme Cullen, matriarch of the vampire clan that eventually takes in Bella Swan in the Twilight series.
HERMIONE
Harry Potter still has its devoted fans, more than a dozen years after the last movie was released. One of the towering characters from the series? Muggle-born witch Hermione Granger, known for being smart, capable, and brave.
JOSETTE
Another name from Gothic soap opera Dark Shadows. Josette was a tragic figure from the distant past, an early love of Barnabas, the vampire at the center of the story.

KATRINA
Washington Irving's short story "The Legend of Sleepy Hollow" introduced the world to pretty Katrina Van Tassel, the wealthy and privileged daughter of a wealthy farmer. Schoolmaster Ichabod Crane courts her, until one of the scary stories told around the fire comes to life.
LARA
Long-running sci fi series The Dresden Files introcued the world to Harry Dresden, a powerful wizard who earns a living as a private investigator. One of many of supernatural characters in Harry's life is vampire Lara Raith.
LAYLA
This name simply means "night" in Arabic. That's enough to put it on the list of Halloween baby names.
LILITH
Lilith is ancient – so very ancient. The name's roots are Akkadian, which stretches back hundreds of years BC. Like Layla, Lilith means night – or "of the night," to be specific. She features in many a myth from the ancient world. Some traditions hold that she was the first wife of Adam, before Eve, cast out for disobedience. Some say this makes Lilith a demon; others, a hero.
LUCY
Pretty, vintage Lucy is straight out of the original Dracula story. Lucy Westenra is the vampire's first English victim. Across many adaptations and re-tellings, Lucy's character nearly always remains, and is often still called Lucy. Proof that this is a timeless name, indeed.
LUNA
Literally the Latin and Spanish word for moon, Luna would fit on this list for meaning alone. Fiercely independent witch Luna Lovegood from the Harry Potter series makes this name an even more obvious choice for spooky season.
MAHARET
Anne Rice's Vampire Chronicles begins in twentieth century New Orleans, but later books explore the ancient origins of the vampire. Along with her twin sister, Mekare, Maharet is a powerful witch – and part of the origin story Rice invents.
MARNIE
Disney Channel origin movie Halloweentown debuted in 1998. It introduced us to 13-year old Marnie Piper who learns that she's – surprise! – a witch. She finds her way into the magical world of Halloweentown and ultimately saves the day.
MAVIS
2012 animated movie Hotel Transylvania introduced the world to a kinder, gentler Dracula and his teenage daughter, Mavis, voiced by Selena Gomez. Mavis is about to celebrate a landmark birthday – her 118th – when she meets and falls in love with a regular guy. Hijinks ensue.
MAZIKEEN
Neil Gaiman and DC Comics brought a version of Lucifer – the devil himself – to life in a series of comic books during the early 2000s. A television adaptation followed, chronicling Lucifer's exploits. Mazikeen was a demon companion. It's a cool, edgy, current sound and the character had all sorts of appeal, but Mazikeen comes from a Hebrew word meaning "damaging."
MORRIGAN
Morrigan – or The Morrigan – is either an Irish goddess or group of goddesses, depending on the version of the tale you're reading. It translates to "great queen" or "phantom queen." She's a war goddess, foretelling soldiers' fates – for better and for worse.
NANCY
1984's A Nightmare on Elm Street introduced the world to the villainous Freddy Krueger – and filmmaker Wes Craven. But Nancy was the one brave enough to figure out the villain's weakness.
NYX
The Greek goddess of the night, daughter of Chaos and wife of Darkness. It's a cool update to Nicole, a mini name that fits our moment.
PRUE
In 1998, the world met the Halliwell sisters, three powerful witches who stood against all sorts of world-threatening evils in contemporary San Francisco. Prue was the eldest sister; the cast also included Phoebe and Piper. Eventually, Paige replaced Prue. The other names were always more mainstream, and there's definitely a Charmed effect … but not for Prue. It's short for Prudence, but the character is almost always referred to by her nickname.
REGAN
Few horror films are as legendary as The Exorcist. Released in the last few days of 1973, the story focuses on a priest's attempts to cure a young girl possessed by a demon. The girl? Regan MacNeil. Before this, the surname was used in small numbers, mostly for boys. After this? Regan rocketed into the US Top 1000 for a few years, fueled by the rise of Megan.
RHIANNON
1974 Fleetwood Mac song "Rhiannon" put this unusual name on parents' radar. When Stevie Nicks sang the song in concert, she often introduced it by saying it was about a "white witch." The name's translation is closer to queen, and in Welsh myth, she is known for her magical abilities.
ROSEMARY
A sweet, even wholesome name, Rosemary makes the list thanks to Rosemary's Baby. A best-selling 1967 novel by Ira Levin became a 1968 hit movie starring Mia Farrow. Unbeknownst to young Rosemary, the baby she and her new husband are expecting is the son of the devil himself.
ROWENA
Edgar Allan Poe's haunting short story "Ligeia" uses this lovely name for one of the tragic characters. Long before Poe, Sir Walter Scott used Rowena for a character in his 1819 novel Ivanhoe. 
SABINE
A lovely, haunting name, Sabine comes from The Originals. She's a witch in New Orleans in the extended Vampire Diaries universe.
SABRINA
Sabrina the Teenage Witch graduated from Archie Comics to a light-hearted television series to Netflix's much darker The Chilling Adventures of Sabrina in 2018.
SAMARA
In 2002, the American remake of Japanese horror film The Ring introduced us to the terrifying Samara. It sounds like an update to Samantha, but Samara might come from the name of an ancient city in Mesopotamia. The reason it works so well? Samarra – spelled with two Rs – is the place a man flees to (try to) escape the Grim Reaper.
SELENE
In the Underworld series, Selene is an immortal vampire and elite assassin, a "Death Dealer." She's devoted to hunting down werewolves until she learns that maybe, just maybe, they weren't the ones responsible for her family's death.
SOOKIE
Charlaine Harris' The Southern Vampire Mysteries introduced the world to an ordinary small-town Louisiana waitress … who can also read minds. Sookie Stackhouse was later brought to life on HBO, the series now called True Blood. A traditional Susanna/Susan nickname, Sookie is clearly a nod to the beloved character.
TANITH
Another ancient goddess, Tanith was associated with the city of Carthage. Some evidence suggests that worship of Tanith involved human sacrifice. Gustave Flaubert played up this possibility in his 1862 novel Salammbô. Regardless of the gory story's truth, the image stuck.

TWYLA
Likely derived from the word twilight, Twyla – and Twila – sound like Halloween baby names.
URSULA
As in the sea serpent villain at the heart of The Little Mermaid.
WEDNESDAY
The Addams Family's breakout star of the moment, thanks to Netflix series Wednesday. 
WILLOW
A lovely nature name, made famous by Buffy the Vampire Slayer. In the show, Willow was Buffy's BFF and a powerful witch, too.
WINIFRED
Hocus Pocus has become October's must-see-TV. Bette Midler played the eldest Sanderson sister. Mary and Sarah, the other two Sandersons, have names that feel almost ordinary. But Winifred is delightful, distinctive, and just Halloween enough to make this list.
HALLOWEEN NAMES FOR BOYS
ALARIC
Alaric Saltzman appeared on both The Vampire Diaries and The Originals. Over the shows' span, he's been a human, a vampire, and a ghost. The character often goes by Ric for short.
ALCIDE
Because The Southern Vampire Series and True Blood are set in Louisiana, some marvelous French/Cajun names appear throughout. That includes Alcide, a lone (were)wolf.
ARISTEDE
A handsome French form of the Greek Aristides, this name appears in a Dark Shadows story line, the 1960s Gothic soap opera.
ARMAND
The French form of Herman, Armand is the name of a significant vampire in Anne Rice's series.
ARTHUR
In the Harry Potter series, Weasley patriarch Arthur is a gentle soul, obsessed with the ways of the Muggle world. But he's also strong and principled, and determined to protect Harry, as well as his children. That's enough to make this classic, regal choice just right for spooky season.
BARNABAS
The vampire at the heart of 1960s Gothic soap opera Dark Shadows.
BRAM
Author of early horror novel Dracula, Bram Stoker expanded on legend, combined with real-life tales of vengeful ruler Vlad the Impaler, to create an enduring monster.
BRAN
Depending on your source, Bran means crow or raven. It features in plenty of Irish and Welsh myth. It's also a character name from Game of Thrones.
CADE
The Vampire Diaries introduced us to Cade – short for Arcadius. He's an ancient vampire and a villain, a sort of devil and creator of hell in the television series.
CASPER
As in the Friendly Ghost. Invented for a series of animated shorts, Casper is a child-ghost, more interested in making friends than scaring people. Now nearly a century old, the character is periodically reinvented for television, comics, film, stage, and video games.
DAMIAN, DAMIEN
1976's The Omen remains a horror classic, featuring terrifying schoolboy Damien. Despite the chilling movie – and multiple remakes and a 2006 reboot – every new installment in the franchise tends to give this name a little boost.
DAMON
One of the brothers at the heart of the drama in long-running television series The Vampire Diaries.
DEACON
A villain at the heart of the Blade story in the Marvel comics.
DEXTER
The serial killer at the heart of a long-running television series.
DORIAN
A character first introduced in The Vampire Diaries, Dorian Williams has gone on to appear on all three shows in the extended universe. Unlike nearly every other character mentioned here, Dorian is just plain human.
DRACO
A Latin name meaning dragon, Draco makes this list thanks to Draco Malfoy, Harry Potter's long-time antagonist.
DRAVEN
In 1994's The Crow, Brandon Lee played Eric Draven. The name has been used in steady numbers for boys ever since.
EDWARD
As in Twilight's leading man,  a vampire who sparkles in the sunlight.
FREDDY
Frederick is a traditional, even grand, kind of name. Freddy is cuddly and sweet. But Freddy Krueger is the stuff of nightmares – specifically the kind experienced by unwitting teenagers in the Nightmare on Elm Street movies.
GAVNER
This name comes from the long-running The Saga of Darren Shan series, beginning with the first book, Cirque du Freak. Willem Dafoe played the vampire in a movie version.
HARRY
Harry Potter. It's not that he's the only famous Harry – not by a long stretch! But when it comes to Halloween baby names, it's the inescapable association.
ICHABOD
An Old Testament name made famous in The Legend of Sleepy Hollow.
JACK
Many associations attach to classic Jack. Jack Nicholson in The Shining. Jack O'Lanterns. But it's Jack Skellington, the Pumpkin King of The Nightmare Before Christmas that might make the most fitting reference for this list.
JASON
In the ancient world, Jason is a hero, leader of the Argonauts. But in 1980, Jason became the big bad at the heart of Friday the 13th. The long-running series of horror movies is the reason why old-school goalie masks make a classic Halloween costume.
LEVIATHAN
An Old Testament sea monster, or a Levi-Nathan mash-up for parents who cannot choose.
LOUIS
It's an unassailable classic, the name of William and Kate's young son. But besides being a royal family favorite, Louis is the vampire who tells all to a journalist in Anne Rice's 1976 novel Interview with the Vampire. A movie adaptation followed, starring Brad Pitt as Louis. Now an AMC series is delving into the story. It's equal parts Halloween baby name and traditional choice.
LUCIFER
The devil himself. After a good run, Lucifer recently ended on Netflix, based on the Neil Gaiman comic books. The fictional character as presented on the television series is compelling – not especially evil and sometimes downright good as a consultant to the Los Angeles police department. And yet, it's a burdensome given name. Regardless of your beliefs – or you feelings about how others should repsond to Lucifer – it's the kind of name that raises eyebrows everywhere.
MALACHI
Stephen King's short story "Children of the Corn" became a movie in 1984. Malachi is one of the murderous children at the center of the plot.
MARIUS
A vampire since 30 BC, Marius is one of the oldest characters in the extended Vampire Chronicles.
MICHAEL
This list would be incomplete without mentioning Michael Myers from the long-running Halloween franchise. Of course, this name is such a classic that it would be easy enough to name your son Michael with no awarness of the Halloween tie-in.
ORPHEUS
This name's meaning – "darkness of the night" – is enough to put it on the list of Halloween baby names. But it's the Greek myth of Orpheus venturing to the underworld to save his wife and almost, almost, so close succeeding that makes this name especially right for the season.
RAFAEL
A werewolf from Legacies, one of the shows related to The Vampire Diaries.
ROOK
Another name for a crow, and a chess piece, too.
SILAS
Another name from The Vampire Diaries.
STEFAN
The Vampire Diaries starts out with a pair of vampire brothers, Damon and Stefan.
THACKERY
In Hocus Pocus, Thackery is a cat … who started out as a human being, way back when the witchy Sanderson sisters first roamed the earth.
VINCENT
As in Vincent Price, the acclaimed actor. He's best remembered for his work on classic horror films, like House of Wax. 
WARLOCK
An Old English name meaning traitor or devil, Warlock became the masculine equivalent of Witch in the sixteenth century. It's not a given name – and shouldn't be! But it gets a mention here thanks to Good Omens. In the Neil Gaiman novel turned Prime series, Warlock is a child's name.
WES
As in master of horror Wes Craven.
UNISEX NAMES INSPIRED BY SPOOKY SEASON
BRAMBLE
A prickly shrub that might make an interesting nature name possibility.
NOIR
The French word for black.
OCTOBER
As in the month at the heart of spooky season.
ONYX
The black stone.
POE
Inspired by Edgar Allan Poe.
ROWAN
A unisex name made famous by Anne Rice's witch in the long-running Mayfair Witches series.
SALEM
A place name forever associated with witchcraft.
What are your favorite Halloween baby names?
This post was published originally on October 11, 2018. It was re-posted on October 14, 2019 and again on September 21, 2023.