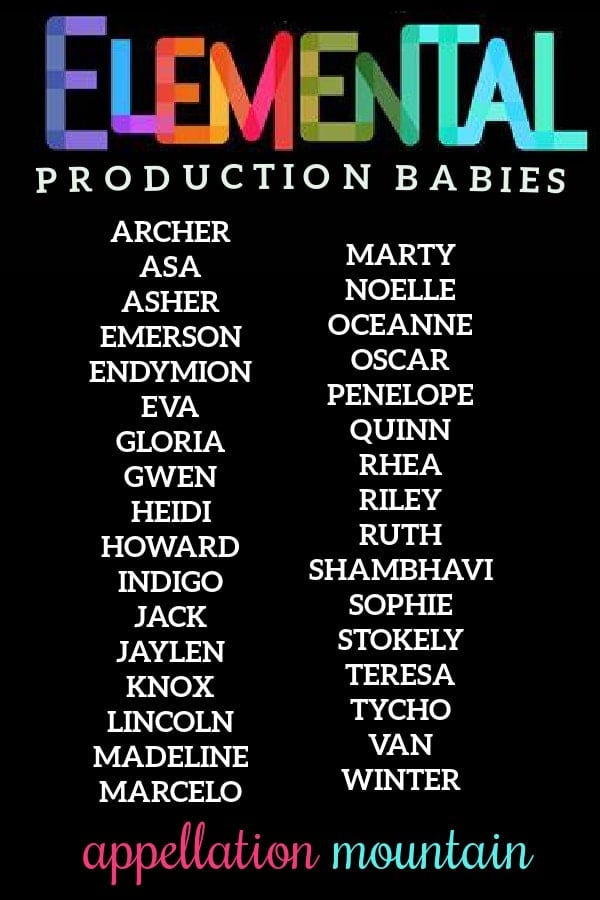 Let's review the Elemental production babies.
Wait, what are Production Babies?
Ever since the very first Pixar movie, Toy Story, debuted in 1995, the studio has followed a fascinating tradition.
They've listed the names of any babies born to the staff responsible for the movie in that film's credits.
Those names appear at the very end, under the heading Production Babies. Because, well, these babies arrived during the movie's creation.
After all, animated movies take a long time – sometimes years – to go from early concept to finished product. And the team involved with the process is big, big enough to guarantee at least a few new arrivals. If your family grows while you're focused on a movie, well, inevitably you'll think of Toy Story 4. or Turning Red as part of those memories.
Pixar Animation Studios officially became part of Walt Disney Studios in 2006. Disney now follows the same custom, as do several other animation shops.
That's 27 lists from Pixar alone, if you're counting.
Released in 2023, Elemental marks the studio's 27th feature film. Lists vary in length, but well over 650 births have been celebrated this way.
Despite sharing the names, the end credits aren't exactly birth announcements. They don't share gender, date – or even year – of birth, or the parent's role on the film. A handful of lists might note twins. Occasionally, if two Production Babies share a first name, the initial of their surname (presumably) is also included.
More things we don't know: are parents are asked how to credit their children? Presumably that's the case, right? So Elemental's Gwen might be Gwendolyn – or not.
But that really doesn't take away from the sheer delight of getting a peek at the creative names Pixar's international team chooses for their new arrivals.
ELEMENTAL PRODUCTION BABIES: THE LIST

Here's the full list of Elemental production babies, in alphabetical order. With just 33 names, it's one of the shorter lists, but still so very delightful.
Archer
Asa
Asher
Emerson
Endymion
Eva
Gloria
Gwen
Heidi
Howard
Indigo
Jack
Jaylen
Knox
Lincoln
Madeline
Marcelo
Marty
Noelle
Oceanne
Oscar
Penelope
Quinn
Rhea
Riley
Ruth
Shambhavi
Sophie
Stokely
Teresa
Tycho
Van
Winter
MORE ABOUT THE NAMES
TRADITIONAL PICKS
Every list includes a few tried-and-true staples. For Elemental, names like Madeline, Ruth, Teresa, and Jack seem like the most traditional choices.
CURRENT FAVORITES
The biggest category in any list of production babies – or maybe any list of children, full stop. Elemental production babies will sound right at home in kindergarten in a few years, with popular names like Quinn, Penelope, Sophie, Noelle, Emerson, Eva, Winter, Archer, Asher, Riley, Oscar, Knox, Lincoln, and Jaylen.
RETRO REVIVALS
Here's where it gets interesting!
Are Marty and Howard the next traditional boy names to make a comeback?
Don't Heidi, Gloria, and Gwen all sound surprisingly fresh and new today – even if they're also opening an avocado green refrigerator to grab the pitcher of Kool-Aid, too.
STYLISH SURPRISES
Let's look a little more closely at some of the truly stylish Elemental production babies' names.
Asa – Brief and complete, Asa feels like it ought to follow Leo and Kai and Elijah and Noah into the US Top 100. If the creative parents at Pixar have embraced this name, maybe it will.
Endymion – In Greek myth, Endymion is a handsome shepherd who spent long nights in the fields tending his flock. The moon goddess, Selene, fell in love with him. In some tellings, she convinced Zeus to grant Endymion eternal youth so they'd never be apart. A New Orleans organization parades every Mardi Gras as the Krewe of Endymion, making a splash with celebrity grand marshals.
Indigo – We love Navy and Scarlett, so why not Indigo? Built-in nickname Indie is a bonus.
Rhea – Rhymes with Mia and Leah, but Rhea is another name from myth, this time both Greek and Roman.
Stokely – As in Civil Rights activist Stokely Carmichael.
Tycho – Perhaps inspired by Danish astronomer Tycho Brahe.
Van – A mini name with an enduring, cool sound.
INTERNATIONAL GEMS
Given the global scope of Pixar's talent pool, no surprise that many names seem to reflect the diversity of the workforce. A few standouts on the Elemental production babies list include:
Marcelo – A Spanish name, ultimately sharing the same roots as Mark. But this is a much more current, updated, and global sound.
Oceanne – Océane has had a good run in French-speaking countries over the last few decades, reflecting the fact that nature names aren't an American phenomenon. This spelling seems a little easier to pronounce phonetically in the US.
Shamhavi – This name comes from Sanskrit, and refers to the beloved of Lord Shiva. It might also means "brings happiness." That feels like a very fitting meaning for a child whose parents work on Pixar flicks!
Do you have any favorite Elemental production babies names?