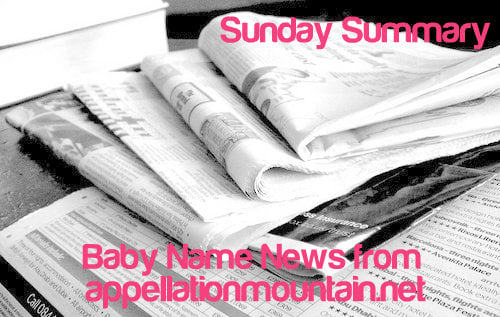 Can it really be June 29th, the twenty-sixth Sunday of the year?  The weather says yes, and the calendar agrees, so I guess it is just me wondering where the last six months went!
Let's start with a huge thank you to Kara for choosing an amazing group of names for the week.  Roxelana and Asenath were completely off my radar, and Javier and Maureen are the kind of un-championed names that I love to feature here.
And the post she requested about Native American Baby Names?  Easily the most challenging topic I've researched, probably ever.  The questions are huge, and it is so tempting to just look for attractive names that seem to be Native American … at least a little bit.  It's a topic I'd like to revisit, but I'm not quite sure how I'll begin.
Now, on to my name obsession of the moment: do you think it would be insane to try to learn Icelandic?  Flights from DC to Reykjavik are cheap, and if I knew just a little of the language, I might be able to eavesdrop on a playground somewhere.  Because seriously?  The Mannanafnaskrá – that's their official list – is packed with fascinating names.  And yet it seems kind of crazy that a country that seems as open and welcoming as Iceland would be so strict about names.  I'm adding Reykjavik to my bucket list, and will report back.
Elsewhere online:
That's all for this week!  As always, thank you for reading – and tell us, have you spotted any great names out in the wild lately?
Related articles