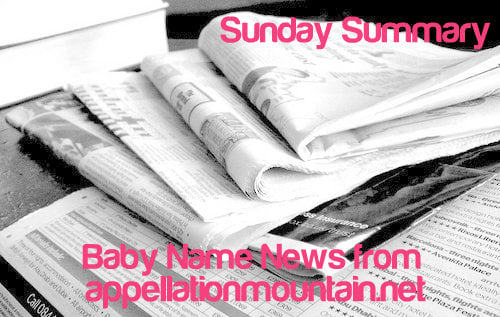 I'm curious – do you read blogs and forums where the tone is snarky, even scathing?  They're not for me.  I don't object to opinions, even strong ones, even ones that don't begin to fit my worldview.  And sites that are purely humorous – like The Onion – get a pass, too.  The diversity of perspectives and the ability to know people who are really different and learn completely unexpected things powers the internet, right?
Well, that and LOLcats.
I ask because I've been struggling with what to do about blog posts from a well-known baby name book author.  There's something about his work that feels unnecessarily harsh.  He recently wrote about Fergie and Josh Duhamel's son, noting the similarity between Axl Jack and applejack, an alcoholic version of apple cider.  Hmmm … maybe a little.  I don't hear it.  The phrase "apple jack" makes me think of the breakfast cereal and the My Little Pony before my thoughts turn to hard cider.  In the first version of the post – which has since been edited – he wrote "It's also possible Fergie was drinking Applejack …" when she came up with the name. Wow!  I'm glad he chose to edit that, but I'm put off by the general tone of his writing.
So while I try to cover the whole of the baby name blogosphere in the Sunday Summaries, I've stopped following his blog.  I've asked you to exercise a degree of restraint in your comments, so I'll do my best to only share content that is generous and thoughtful, or, should I choose to share something that is questionable, I'll put a big 'ol warning label on it.
Now, on to the news:
That's all for this week!  I hope everyone in the US had a great Thanksgiving holiday.  If you're celebrating Hanukkah, I hope you're enjoying!