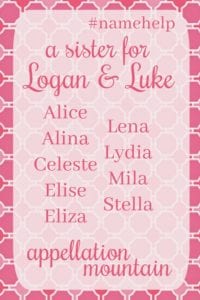 Update: She's here! Sara writes: We didn't know what we were going to name her, up until the minute our boys met her. We had our list with us, and when the boys came in to meet her, Logan was the one who said she looks like an Eliza. And she does! Thanks for the help.

Sara writes:
We have two boys, Logan and Luke. Now, surprise, we're pregnant again, and it's a girl!
We didn't plan for our boys to both have L names, it just happened. But now we can't decide if our daughter needs an L name, too.
Our sons have popular names, but it's never been a problem, so I'm not too worried about that this time, either, but I probably want to stay away from the Top Ten.
My favorite girl name was always Lucy, but I think that's out now that we have Luke. My husband likes Olivia, and has since we first had Logan. But we know a few girls with that name, and it doesn't seem special anymore. My nieces are Sophia and Chloe, so we can't use those names. My husband has a half-sister named Riley, so anything like that is probably out, too.
If this baby was a boy, we were settled on Liam, because we like it. (Even though there is another Liam in our neighborhood, and we know of a few others.)
No L girl names really stand out so far, but we're open to ideas.
Please read on for my response, and leave your thoughtful suggestions in the comments.
Dear Sara –
How exciting to be expecting a daughter!
I've often quoted the wise Swistle on this question: two names starting with the same letter is a coincidence; three is a pattern. I'm inclined to suggest you avoid another L name here, if only because it would create a pattern, in the event that you might have a fourth child in the future. (Though only you can know if that's possible, or just not gonna happen.)
When I asked this as a complete the sibset on the Facebook page, a number of readers offered a great compromise: choose a name with a strong L sound. Names that start with Al, El, or Ol all mimic the strong-L sound of Logan and Luke, while still giving your daughter an initial of her own.
Olivia fits with this idea, of course, but it sounds like you've ruled that name out. So let's look for some other options.
Alice – Alice feels like a sweetly storybook choice, but it also belongs to many women of accomplishment. That makes it just right for a child or an adult. It's also quite popular today – #76 as of 2016. But somehow it still feels distinctive and not too close to your boys' names: Logan, Luke, and Alice.
Alina – Alina might be a cousin to Adeline, or it might come from longer names, like Magdalena. Either way, it's a lovely sound. A note on spelling: while Alena also charts in the US Top 1000, the 'i' version is much more common.
Celeste – Night-sky names like Luna and Stella are all the rage, but heavenly Celeste remains overlooked. It comes from Latin, and despite a long history of use, has never cracked the US Top 200.
Eliza or Elise – Eliza seems spunkier, while Elise reads a little on the quiet side. They're both Elizabeth-names, with history galore and plenty of appealing references. I think they work really well with Logan and Luke.
Lena – Of course, I'm not saying L names are out. Far from it! Alina makes me think of Lena. It's quite close to your favorite boy name, Liam, too. Leah is another option, but I think adding the 'n' makes it easier to say the three names together: Logan, Luke, and Lena.
Lydia – Vintage Lydia is back in a big way, standing at #80 as of 2016. It shares the letter L with Logan and Luke, but no one would ever confuse the three.
Mila – If not a name starting with a strong-L sound, maybe one that ends with a -la? Mila sounds like a sister for Logan and Luke. It's popular – at #48 as of 2016 – but I think it works well with your boys' names.
Stella – I mentioned Stella earlier, when I suggested Celeste. I do think Stella sounds exactly right for your family. It's spunky, but has a certain elegance, too. And while the L sound is strong, it's at the end – which helps it feel just different enough.
Overall, I keep coming back to Mila and Stella, names with the -l sound near the end of the name.
But now it's over to the readers. What would you name a sister for Logan and Luke?