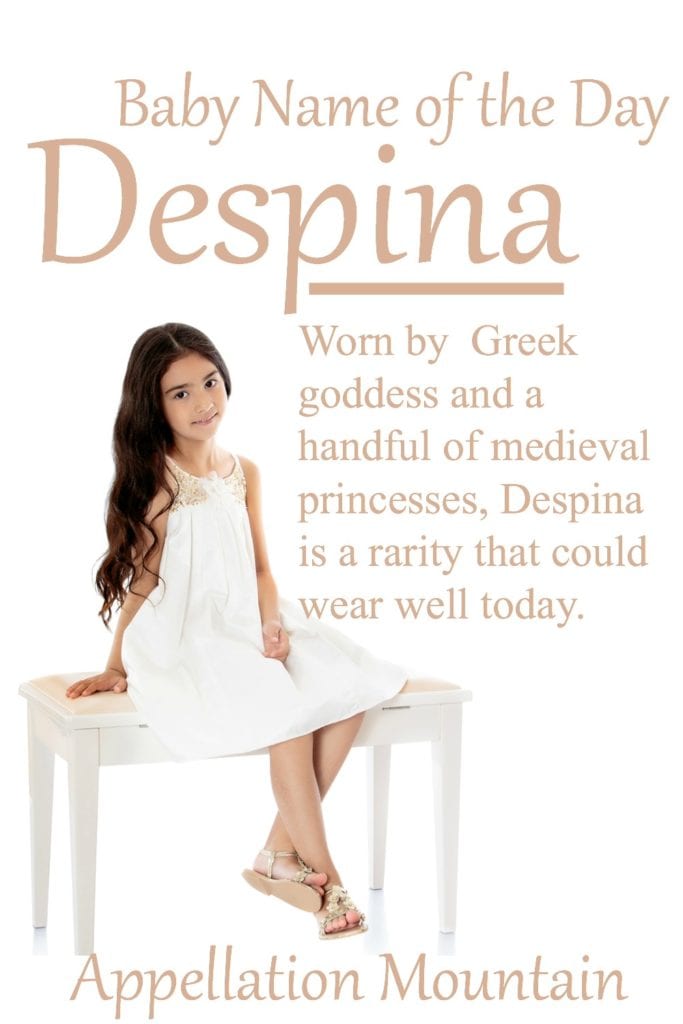 A pretty name from Greek myth, Despina has never been commonly used in English – but there's no reason this name wouldn't wear well.
Thanks to Sarah for suggesting our Baby Name of the Day.
Despina: Lady
Demeter and Poseidon's daughter keeps a low profile. The goddess' name means lady or mistress. She shares her name with mom, and both goddesses were associated with the Eleusinian Mysteries, a highly secretive religious ceremony held annually at Eleusis.
Several sites suggest that her name wasn't her name at all. Instead, it served as a placeholder. Her true name was revealed only to initiates.
The goddess is also called Despoina, Despoena, and Despoine. Simplified Despina seems most accessible in American English.
Despina: Middle Ages
The title survived well beyond ancient days. In 1389, a young woman named Mileva Olivera, the daughter of Lazar of Serbia, married the Ottoman Sultan Bayezid I. The marriage sealed a peace treaty between the two kingdoms. As a new bride, Mileva became known as Despina Hatun.
The title was not hers alone. I found another Serbian princess, Mara Brankovic, married to Sultan Murad II in 1435, who wore the exact same title.
In 1458, Theodora Komnene, a princess of Trebizond, also married for political reasons. She, too, became known by the title.
Many other women in the Ottoman court also answered to Hatun, from the 1100s until at least the 1600s. Hatun is considered the rough equivalent of the title Lady in English. This poses a curious question: were the Christian noblewomen who married into the Ottoman court called Lady Lady? The answers appears to be yes, though I cannot unravel why.
Despina: Mozart
Mozart gave the name to a maid in his 1790 opera Così fan tutee. The romantic comedy ponders the enduring question of whether young love can survive separation. Sisters Dorabella and Fiordilgi are engaged to marry military officers Ferrando and Guglielmo. The men worry that their betrothed would not be faithful if they were called away to war. A grand deception is staged to test the women, complete with assumed identities.
The sisters' clever, duplicitous maid is Despina. It turns out she's in cahoots with the schemers.
All ends happily, but none of the character names has ever caught on in the US.
Despina: Night Sky
If not from myth or the opera, perhaps you've heard the name from astronomy. One of the moons of Neptune – also known as Neptune V – is called Despina.
The moon was discovered in 1989 by Voyager II, along with Naiad, Thalassa, Galatea, and Proteus. Since Neptune rules the seas, lunar names are chosen for their associations with water. Since Despina's father was Poseidon, the equivalent of Neptune in Roman myth, the name fit.
Despina: Greek Orthodox
The Greek Orthodox church uses the title Despoina for Mary.
It's no longer used as a title in everyday Greek, but despinis means miss – as in "Miss Jones" or "Miss, would you please bring me another cup of coffee?"
Celebrated Greek singer Despina Vandi might have influenced some parents, too. Vandi has scored a string of pop hits in Europe. She continues to perform, and also serves as a coach on the Greek version of The Voice.
Despina: By the Numbers
In the US, this name remains rare – but not unknown. At least five girls have received the name annually, stretching back to 2014. Nine were born in 2015.
Overall, the name is rare – but perfectly wearable today. It might serve as a heritage choice, or maybe something completely unexpected, but with history.
What do you think of Despina?