Pixar baby names come from the movies the game-changing studio has produced since its founding in 1986.
All ten names on this list belong to the twenty-first century, meaning that they're all Disney-Pixar baby names, from movies that debuted after the long-time storytelling giant paired up with the innovative new studio.
Some have clearly influenced parents; others played a small part in the rise of a popular name. And a few have yet to catch on – but could be the next big thing.
We know that Toy Story 4 hits the big screen in summer 2019. Rumor has it that two more original Pixar stories are in the works, but we'll have to wait and see.
In the meantime, let's take a look at ten Pixar baby names you'll be hearing on the playground soon.
Pixar Baby Names: Sullivan (2001)
Current US popularity rank: #399
2016 US popularity rank: #409
Monsters, Inc. featured just one human character – a girl called Boo. But it also starred John Goodman as a furry blue monster known by the very human name James P. Sullivan. Most of his fellow monsters, including BFF Mike Wazowski, call him Sulley. The movie debuted in 2004, just two years after Sullivan entered the US Top 1000. Since then, we've enjoyed 2013 prequel Monsters University, again featuring Sulley – and the name has gained in use. Credit goes to our preference for longer boy names, but also – at least in part – to the Pixar flicks.
Read more about Sullivan here.
Pixar Baby Names: Dash (2004 and 2018)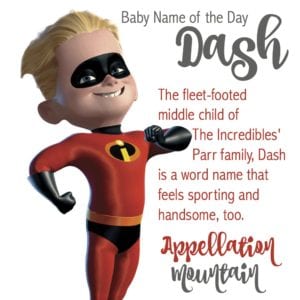 Current US popularity rank: #399
2016 US popularity rank: #780
In 2004, we met The Incredibles, a family of former superhero parents, and kids who didn't know they weren't regular kids. In the movie, Dash is the fast-moving middle child and his full name is Dashiell. But just Dash ranks in the current US Top 1000, a former rarity that rose sharply following the movie's 2004 release. Some of it has to do with our affection for word names, and some of it is down to sound – Cash and Nash also feature in the US Top 1000, along with Asher and Ashton. But the numbers show that Pixar played a big part, too. With the new sequel winning rave reviews, will Dash really take off?
Pixar Baby Names: Sally (2006)
Current US popularity rank: unranked
2016 US popularity rank: unranked
1930s favorite Sally usually brings to mind another animated character: Charlie Brown's little sister. But in 2006's Cars, we met Sally, a blue Porsche. She's a lawyer who left behind Los Angeles to settle in sleepy Radiator Springs, where she operates the Cozy Cone Motel. (And, of course, eventually helps Lightning McQueen find his way to true greatness.) She's loyal, fearless, and very smart. So far, the movie hasn't increased the name's use – but she'd make a great role model. If you love Molly and Sadie, but want something less popular, Sally belongs on your list.
Pixar Baby Names: Remy (2007)
Current US popularity rank: #449 for boys; #605 for girls
2016 US popularity rank: #468 for boys; #717 for girls
In 2007, we met Remy, a rat who loved great food. The star of Ratatouille seems like strange inspiration for a child's name, but there's no question about the link. Seldom heard in the US prior to 2007, it rose steadily for boys and girls following the movie's release. Remy brought along longer names, too, like surname name Remington. While there's no talk of a Ratatouille sequel, there is a new ride coming to Walt Disney World's Epcot, modeled on a popular attraction at Disneyland Paris. That extra attention could continue to boost the name.
Pixar Baby Names: Ellie (2009)
Current US popularity rank: #44
2016 US popularity rank: #43
Ellie ranked in the US Top 200 before we ever met the curmudgeonly Carl of Up and his beloved, adventurous wife. Given the popularity of so many El- names, it's tough to attribute the rise in Ellie solely to the 2009 Pixar film. And yet, there's no question Ellie gained in use, doubling from 2008 to 2014. The movie details the love story between Carl and Ellie Fredricksen, and while it is sad, it's also deeply moving. The character's name came from director Pete Docter's daughter – who voiced the daring child Ellie in the movie. In her case, it's short for Elizabeth.
I've yet to write about Ellie, but here's a long list of formal names that can shorten to Ellie.
Pixar Baby Names: Bonnie (2010)
Current US popularity rank: #697
2016 US popularity rank: #895
Toy Story kick-started Pixar's reign as a movie-making giant. But the names of the original movie's characters, like Woody and Buzz, haven't caught on – yet. But how 'bout Bonnie? In Toy Story 3, she's the young girl who rescues Woody while the rest of the toys end up at Sunnyside Daycare. After much adventure, most of the toys make a new home with Bonnie. The 2010 movie bumped the sweet vintage nickname in use a bit, bringing it back into the US Top 1000. With Toy Story 4 due in 2019, perhaps we'll see more of Bonnie, and this name will have yet another chance at revival.
Pixar Baby Names: Joy (2015)
Current US popularity rank: #336
2016 US popularity rank: #351
Inside Out debuted in the summer of 2015, and we all fell in love with Joy, the emotion at the center of young Riley's brain. Voiced by Amy Poehler, the movie tells the story of Riley's move from Minnesota to San Francisco, and her struggles to grow up and find her place in her new hometown. Along with Up, it's one of the more emotional of the Disney-Pixar movies, and one that seems less likely to inspire sequels and spin-offs. But it has encouraged parents to embrace Pixar baby names. Already popular Riley rocketed up the charts, reaching the Top 25. Meanwhile Joy reversed course. Instead of fading, the word name is now headed up.
Pixar Baby Names: Arlo (2015)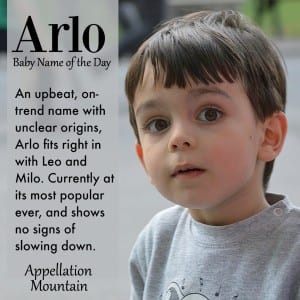 Current US popularity rank: #316
2016 US popularity rank: #349
What would you name a friendly apatosaurus? Disney-Pixar went with Arlo for 2015's The Good Dinosaur. While it wasn't a mega-hit like many a Pixar movie, it helped the already-rising Arlo climb in use. Credit also goes to the name's friendly, upbeat sound, an alternative to other popular picks like Milo and Leo. But the timing suggests that the adventures of Arlo, and his eventual transformation from the runt of the litter to selfless hero – played a part, too.
Pixar Baby Names: Hank (2016)
Current US popularity rank: #450
2016 US popularity rank: #485
Finding Dory brought back many of our favorite Finding Nemo characters, but we also met plenty of new aquatic friends. Hank reluctantly helps Dory when she arrives at the Marine Life Institute. He's an octopus – or maybe a septopus, as he's missing a tentacle. Hank is kind of a grouch, but he helps Dory escape, and eventually reunite with her family and friends on the reef. Hank, too, joins them, living in the ocean. The name was already shooting up in use when Finding Dory hit theaters. It's a safe bet that the popular movie character can only help Hank climb even more.
I've yet to write about Hank, but check back and I'll update when I do.
Pixar Baby Names: Coco (2017)
Current US popularity rank: unranked
2016 US popularity rank: unranked
Coco centers around Dia de Muertos – a Mexican holiday related to All Saints' Day – and a young boy's dreams of becoming a musician. The boy is named Miguel; Coco is his great-grandmother. While Coco plays a critical role in the story. In fact, it's her story that ultimately explains much of Miguel's family history. The name has gained steadily in use, and we do love our girl names ending in -o. Call Coco one to watch in the coming years.
What are your favorite Pixar baby names? Would you consider any of these for a child? What did I miss that you'd add to the list?